A professor who gained national attention when a noose was found on her office door and was later fired for alleged plagiarism has filed a defamation lawsuit against her former school.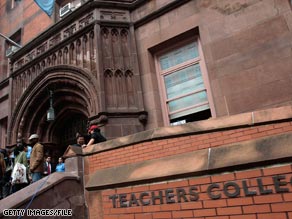 A former professor is suing Columbia University's Teachers College for defamation.
Madonna Constantine, formerly of the Teachers College of Columbia University, is seeking $200 million in the lawsuit filed Tuesday in New York State Supreme Court.
Constantine contends her scholarly reputation was ruined when the school in February 2008 released the results of what it said was an 18-month investigation into the plagiarism allegations. The school at the time said it found "numerous instances in which she used others' work without attribution in papers she published in academic journals over the past five years."
She was immediately suspended and later fired in June 2008.
"This was a scheme cooked up between the head of the department and former faculty," said Paul J. Giacomo Jr., the lawyer representing Constantine. "We had evidence of her original writing that dates back to the 1990s, but it was altered or dismissed."
A spokeswoman for the Teachers College said, "This case is totally without merit and (the college) intends to defend against it vigorously."
Giacomo said the "baseless" charges of plagiarism, coming on the heels of the October 2007 noose incident, made some members of the media question that incident.